Drawn by
~
FairyGB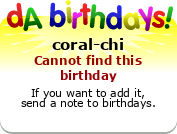 #1 Knuckles Fan
Artist/ Hobbyist / Digital Art
Netherlands
Cash Cash - Speak With Your Heart
About Me:
Real Name:
Ingrid Timmermans
Nicknames:
Coral, Ing (most commen ones)
Age:
...it's a secret XD;
Date of Birth:
January 6th
Status:
Single
Location:
Asten (Noord-Brabant), The Netherlands
Email:
coralchi@hotmail.com
Pet(s):
Miles (Shih Tzu / Maltese Mix)
Tools:

Adobe Photoshop CS5

Bamboo Fun tablet
(But remember! It's not the tools that make the art, it's the artist.)

Self-Taught Artist

I draw mostly Sonic related fan art (though in my own anthro-ish style).
I do enjoy drawing other things as well.

I'm a huge Knuckles fan!


I'm eclectic (meaning I like a lot of different music styles)

I'm some what Ambidextrous. There's some things I can only do left, or only do right, and there are a lot of things I can do with both.

I'm shy, and don't talk much. That doesn't mean I don't like to have conversations with all of you though! So drop by once in a while, I'd like that.


I'm a nice and caring person, though sometimes I have a hard time expressing it.
Likes:
Art, RPGs, Atlantis, nature, singing (though I sound awful XD ), music, Knuckles, helping people, summer, sunshine, love, Ancient civilizations.
Dislikes:
War, lying, dishonest people, people who hurt others (physically, emotionally..), not being able to help people, bugs, spiders, cold, winter, snow/ice, thunderstorms.

Current Obsessions:
Marcassin

, Owl City, Tobuscus, Tales of series (Especially Tales of the Abyss), (Knuckles, always!

)

Inspirations:










Anymore questions, just ask!


Personal Quote:

"You can do more than you think, if you just do it."


Quote To Live By:

"Speak With Your Heart."